Morrow County Genealogy is a comprehensive resource for exploring the rich history and ancestral roots of Morrow County, Ohio. Our organization is dedicated to preserving and sharing the genealogical records, stories, and heritage of this vibrant region.
Our History
Morrow County, located in the heart of Ohio, was officially established on February 24, 1848. It was formed from parts of Richland, Knox, Marion, and Delaware Counties, resulting in a rectangular-shaped county spanning 258,560 acres of land. The county is divided into sixteen townships, each with its own unique history and settlement story.
Township Settlements
Chester 1808
Peru 1809
Bennington 1811
South Bloomfield 1814
Mt Gilead 1817
North Bloomfield 1820
Canaan 1821
Lincoln 1824
Westfield 1808
Franklin 1810
Perry 1812
Troy 1814-15
Washington 1818-19
Congress 1820-21
Cardington 1822
Harmony 1826
We cherish the early pioneers who settled in Morrow County, laying the foundation for future generations. Families like the Holts, possibly arriving as early as 1806/7 in what is now Chester Township, and the Shaws in 1808/9 in what is now Westfield Township, played a significant role in shaping the county's identity.
The county seat, Mount Gilead, originally known as Whetsom, was laid out by Jacob Young on September 30, 1824. The name was later changed to Mount Gilead in 1832 by the Ohio legislature. Today, Mount Gilead stands as a testament to the enduring spirit of the community.
Our Commitment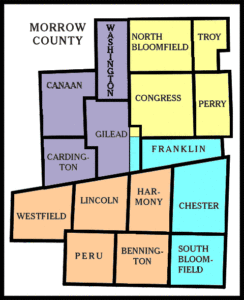 At Morrow County Genealogy, we are committed to providing a wealth of resources and support for those embarking on their genealogical journey. Whether you're a seasoned researcher or just beginning to explore your family's roots, we strive to be your go-to destination for all things related to Morrow County genealogy.
In collaboration with the Morrow County Chapter of the Ohio Genealogical Society, our dedicated volunteers work tirelessly to gather, digitize, and preserve valuable records. We extend our gratitude to Jane Peppler for her contributions, including the informative map that outlines the townships that originated from each parent county.
Please note that our records and research materials prior to 1848 can be found in the archives of the respective parent counties. For more details, we encourage you to explore the resources available on their websites found in Related Links
The Morrow County Genealogy Society
The Morrow County Genealogical Society was established in 1976 and received its charter as a Chapter of the Ohio Genealogical Society in 1977. Our society serves as a hub for genealogical enthusiasts, historians, and individuals passionate about preserving the heritage of Morrow County.
You can find us at our headquarters, conveniently located at 35 East High Street in Mount Gilead, OH. Our library is currently open Tuesday and Wednesday from 10:30 to 3:00. Our historic building, formerly known as the Beebe House, dates back to approximately 1844. It was generously donated by Mrs. George Eccles to serve as a permanent library in 1913.
Bargeboard trim decorates the gable above the two story front porch. The second story porch features spindles cut from flat boards. Unusual bargeboard trim decorates the fancy square cupola. A bell hung in the cupola when Dr Beebe occupied the house. But, it was removed when the building was sold and was moved with Dr Beebe westward. The interior underwent remodeling in 1913 at which time an open oak stairway was added. The recycled metal sculpture on display on the front lawn was made and donated by Jack Logan.
Join Us
We invite you to become a member of the Morrow County Genealogical Society and join us in celebrating the rich history and vibrant heritage of Morrow County. Our dedicated officers and appointed positions ensure the smooth operation of our society, allowing us to serve you better.
You can connect with us through our various committees and take an active role in preserving our collective history. Whether you're interested in contributing to our newsletter, assisting with the First Families program, or serving on our book committee, your involvement is vital to our success.
2022 Officers
President: Daniel Rhodebeck
Vice President: Donna Ufferman
Treasurer: Anne Kunze
Recording Secretary: Ann Artrip
Corresponding Secretary: Janet Rhodebeck
Publicity Secretary: Donna Ufferman
Current Appointed Positions
Newsletter Editor: Daniel Rhodebeck
First Families Chair: Donna Ufferman
Program Committee Chair: OPEN
Book Committee: OPEN
Awards Committee Chair:
By-Laws Committee: Executive Officers
Audit Committee Chair: OPEN
Webmaster: MCGS officers
When and where we meet
We host regular meetings on the fourth Saturday of each month at 2:00 p.m. These gatherings take place in the Genealogy Annex of the Mt. Gilead Public Library
Archived Versions
Our website has gone through different iterations over time, including two notable versions hosted on RootsWeb: the GenWeb Site and the OGS Site. These archived versions provide a glimpse into the evolution of our website, allowing you to explore the historical genealogical resources and information available at those times.
GenWeb Site
The GenWeb site primarily served as a reference site, containing limited genealogical information. Although small in size, it provided valuable resources such as queries, surnames, a surname index for the 1850 Census, basic information about Morrow County, links to census data transcripts, LDS microfilm records, home pages, volunteer lookup services, mailing list and message board information, researcher-provided information, and sources of information.
OGS Site
The OGS Site, being the main previous version, offered a more comprehensive range of resources. It included the Morrow 1850 Census Surname Index, cemetery information, chapter details, documents, First Families program, library resources, helpful links, membership information, the 1895 Biographical History of Delaware, Union, and Morrow Counties Ohio Families, transcriptions of the 1850 Census, publications from the Morrow County Genealogical Society, LDS microfilm records, details about other resource organizations, and research assistance.