---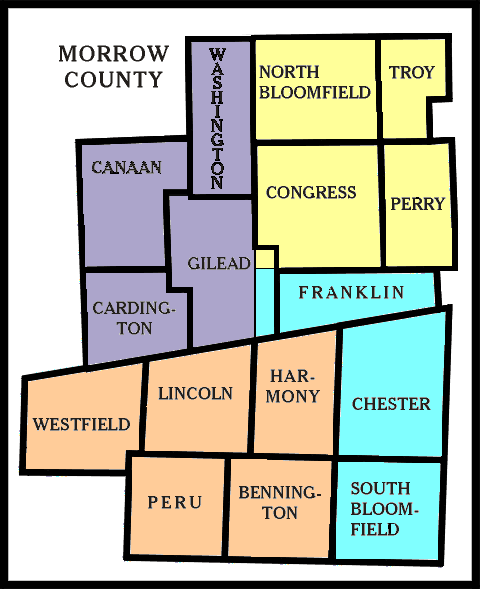 Morrow County was formed in 1848 by taking land from Richland, Knox, Marion and Delaware Counties. Thus, making a rectangular shaped county slightly North of the center of the state and containing 258,560 acres of land divided into sixteen townships. The sixteen townships with the date of settlement are as follows:
Chester 1808
Peru 1809
Bennington 1811
South Bloomfield 1814
Mt Gilead 1817
North Bloomfield 1820
Canaan 1821
Lincoln 1824
Westfield 1808
Franklin 1810
Perry 1812
Troy 1814-15
Washington 1818-19
Congress 1820-21
Cardington 1822
Harmony 1826
The Morrow County Genealogical Society was organized in 1976 and received its charter as a Chapter of the Ohio Genealogical Society in 1977.
Our location: 35 East High Street, Mount Gilead, OH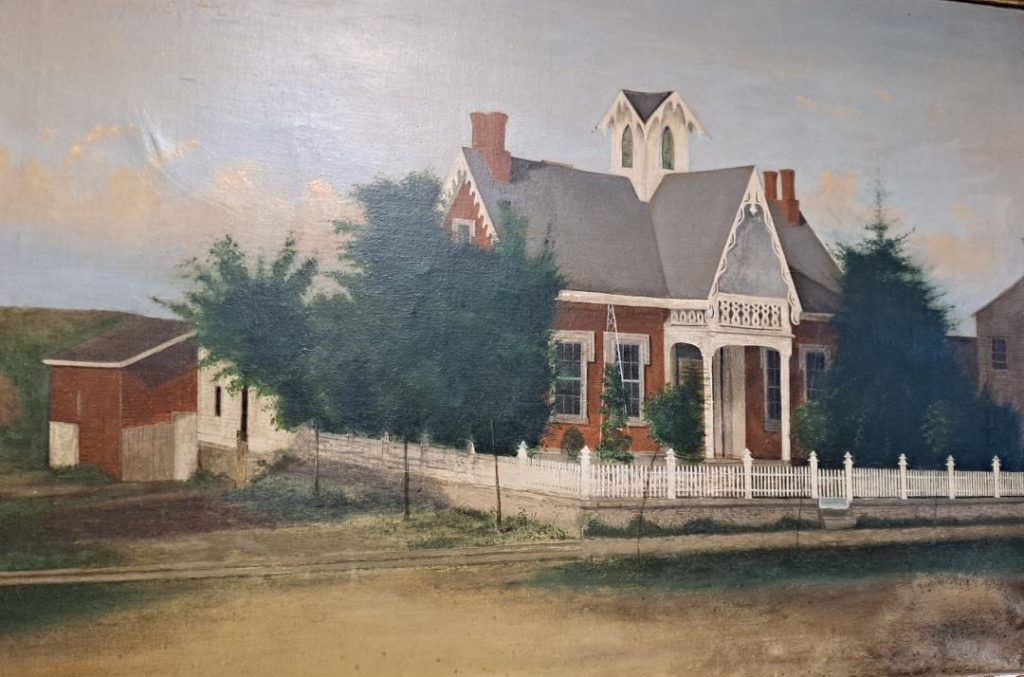 Our home at 35 East High is one of Mt Gilead's historic buildings. The brick structure, formerly known as the Beebe House, was built in approximately 1844. The Gothic Revival structure was purchased from Dr John Talmage Beebe by Mrs George Eccles and given as a permanent library in 1913.
Bargeboard trim decorates the gable above the two story front porch. The second story porch features spindles cut from flat boards. Unusual bargeboard trim decorates the fancy square cupola. A bell hung in the cupola when Dr Beebe occupied the house. But, it was removed when the building was sold and was moved with Dr Beebe westward. The interior underwent remodeling in 1913 at which time an open oak stairway was added.
The recycled metal sculpture on display on the front lawn was made and donated by Jack Logan.
2022 Officers
President: Ann Artrip
Vice President: Donna Ufferman
Treasurer: Stan Sipe
Assistant Treasurer: Russ Mayer
Recording Secretary: Phylis Miller
Corresponding Secretary: Janet Rhodebeck
Publicity Secretary: Donna Ufferman
Current Appointed Positions
Newsletter Editor:  Dan Rhodebeck
First Families Chair:  Donna Ufferman
Program Committee Chair:  OPEN
Book Committee:  OPEN
Awards Committee Chair:  
By-Laws Committee:  Executive Officers
Audit Committee Chair:  Fritz Miller
Webmaster: MCGS officers
When and where we meet
Most meetings are held on the fourth Saturday of the month at 2:00 p.m. Meetings are held in the Genealogy Annex of the Mt. Gilead Public Library, in the lower level meeting room. Anyone interested in the meeting topic is invited to attend.
Our library is currently open Tuesday and Wednesday from 10:30 to 3:00. Please stop in and check us out.