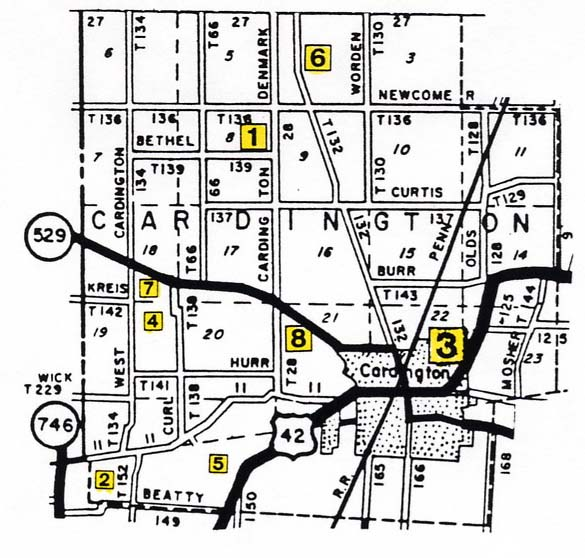 Most of the cemetery names and locations were obtained from the results of a federally funded project in the 1930's, known as the "WPA Veterans Grave Registration Project". It was conducted in cooperation with the American Legion to identify the names of all veterans of the armed services buried in Morrow County and to locate their graves. A copy of the WPA survey is in the Recorder's office in the Morrow County Courthouse, Mount Gilead, Ohio. In addition, over the years, volunteers from the Morrow County Genealogical Society have physically walked through every known cemetery area and, in most cases, were able to record the tombstone inscriptions and locations.
NOTE: Cemetery names marked with * could not be located by the compilers of the "Tombstone Inscriptions" book.
Bethel Cemetery
Located at the northwest corner of the intersection of CR 28 and CR 139. Inscriptions copied July, 1984, by Lewis & Mary Caskey, Mary A. Brocklesby, and Winton & Dolores Arnold.
*Foust Cemetery
Possibly 0.1 mile south of CR 11 and 0.5 mile east of SR 746. Believed to contain grave of Jacob FOUST (born 1755 and died 22 April 1841) who was a Veteran of the Revolutionary War, as shown on his burial registration card in the County Recorder's office.
Glendale Cemetery
This cemetery, consisting of 38 acres, lies in the northeast corner of the village of Cardington. It is bounded on the east by US Route 42 and on the north by Williams St. From an old record found at the St. Paul Lutheran Church, 336 West Main Street, Cardington: "This graveyard shall have the name of our congregation and shall therefore be called THE GOD'S ACRE of the ST. PAUL'S LUTHERAN CHURCH of CARDINGTON." Quoting further from the 1880 History of Morrow County, "In 1835, Cook and Shunk donated to the township one hundred rods of land, in a square piece, for a cemetery. This was situated just north east of the bend in the river, and is now the southeast corner of the new cemetery. In April, 1863, Leumas Cook set apart fifteen and a half acres of land west of the old cemetery, and adjoining it on the north and west, lying along the north bank of the river. This was surveyed into 163 lots, and forms a pleasant place for the purpose for which it was intended." Inscriptons were copied in July 1986, by Mrs. Marguerite Davis, Lewis & Mary Caskey, and Winton & Dolores Arnold, and although some stones no longer bear legible inscriptions, every effort was made to accurately copy those which could be read. A map of this cemetery is on Page 51 in "Tombstone Inscriptions, Volume 2, Canaan and Cardington Townships." Unfortunately, the map did not scan well enough to be legible here.
*Keyes Cemetery
Believed to have been about 0.1 mile south of SR 529 and 0.25 mile west of CR 138.
*Mann Cemetery
Believed to have been about 500 ft. north and 500 ft. west of the junction of US 42 and CR 150.
Purvis Cemetery
On the east side of TR 132, 0.5 mile north of TR 136 (NewcomeRoad).
Weston Friends Cemetery
South of SR 529, about three miles west of Cardington Village limits, on the east side of TR 134. Former site of "Friends Church." Inscriptions copied July, 1984, by Lewis & Mary Caskey, Mary A. Brocklesby, and Winton & Dolores Arnold.
Woodlawn Cemetery
On the south side of SR 529, 1.5 miles west of the Village of Cardington limits. Inscriptions copied July, 1984, by Lewis & Mary Caskey, Mary A. Brocklesby, and Winton & Dolores Arnold.