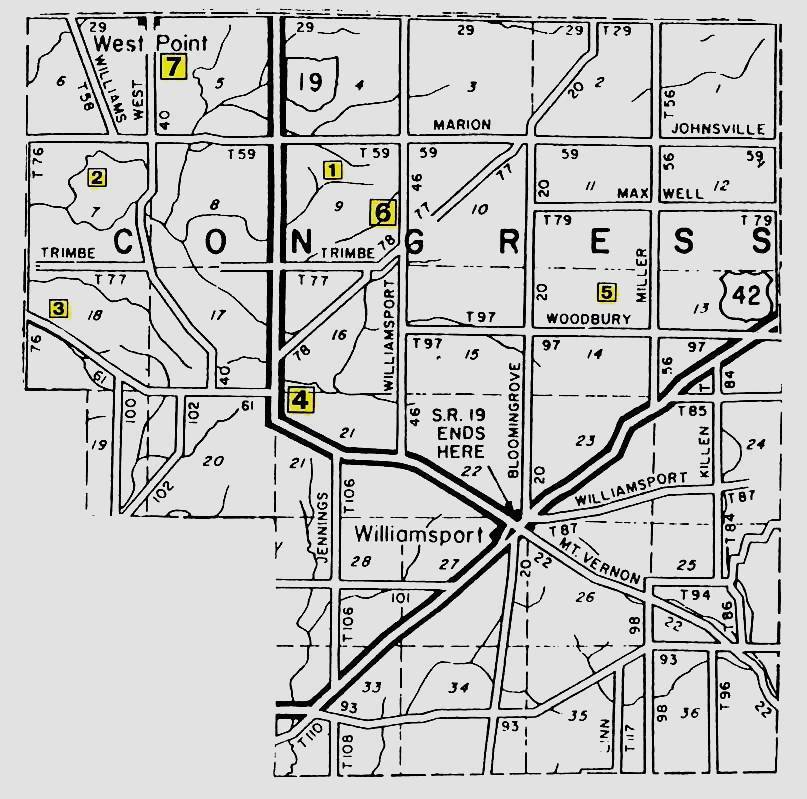 Congress Township was originally a part of the "Congress Lands Survey, 1799-1804" and was under the jurisdiction of Richland County from 1813 until 1848, the year that Morrow County was created.
Most of the cemetery names and locations were obtained from the results of a federally funded project in the 1930's, known as the "WPA Veterans Grave Registration Project". It was conducted in cooperation with the American Legion to identify the names of all veterans of the armed services buried in Morrow County and to locate their graves. A copy of the WPA survey is in the Recorder's office in the Morrow County Courthouse, Mount Gilead, Ohio. In addition, over the years, volunteers from the Morrow County Genealogical Society have physically walked through every known cemetery area and, in most cases, were able to record the tombstone inscriptions and locations.
NOTE: Cemetery names marked with * could not be located by the compilers of the "Tombstone Inscriptions" book.
Dye Cemetery
Named for Andrew Dye, who once owned the farm where the cemetery is located. Located in the northwest quarter of Section 9, 0.1 mile south of Township Road 59, 0.4 mile east of State Route 19. Size: 0.02 acre. On a visit to the site on May 26, 1976, several tombstone fragments and monument bases were observed. Only a portion of one tombstone was legible: Pe Bradf Aug. 2 Aged 2 6 mo. & . It was later learned that the marker for Andrew Dye is in the hands of a descendant; the inscription is: Andrew Dye, Died, Jan.21, 1870, Aged, 82 yrs. 25ds.
*Merwine Cemetery
Located in Section 7, west of County Road 40. Listed December 1976 by George S. Morgan. Sitzler, Elisabeth, consort of John, died Nov. 10, 1847, ae 37y 11m 14d.
Moffit Presbyterian Reform Cemetery
Located in the northwest quarter of Section 18, north of County Road 61, east of intersection with County Road 76. 0.3 acre. Copied 26 May 1976 by Daniel L. Rhodebeck. Nine stones plus broken fragments there at that time.
Mt. Tabor Cemetery
Located at the southwest corner of Section 16, at the intersection of State Route 19 and County Road 61, and 2.25 miles northwest of Williamsport. Size: 1.01 acres. This cemetery was established in 1831 and was the first public burying ground in Congress Township. Inscriptions copied 3 October 1982 by Daniel L. Rhodebeck.
*Parks Cemetery
Exact location is unknown. Probably in the northeast quarter of Section 14. Could be the burial site for David Parks.
Pleasant Grove Cemetery
Located in the northwest quarter of Section 9, on the west side of County Road 46, south of County Road 59. Size: 0.81 acre. Adjacent to the original Pleasant Grove Church, built in 1858. Inscriptions copied June 1958 by Kenneth O. Dudley. Additional work done in June 1977 by Daniel L. Rhodebeck.
West Point Baptist Cemetery
Located in the northwest quarter of Section 5, at the south edge of the village of West Point. Size: 1.05 acres. Inscriptions listed in 1969 by Bart and Del Silver.