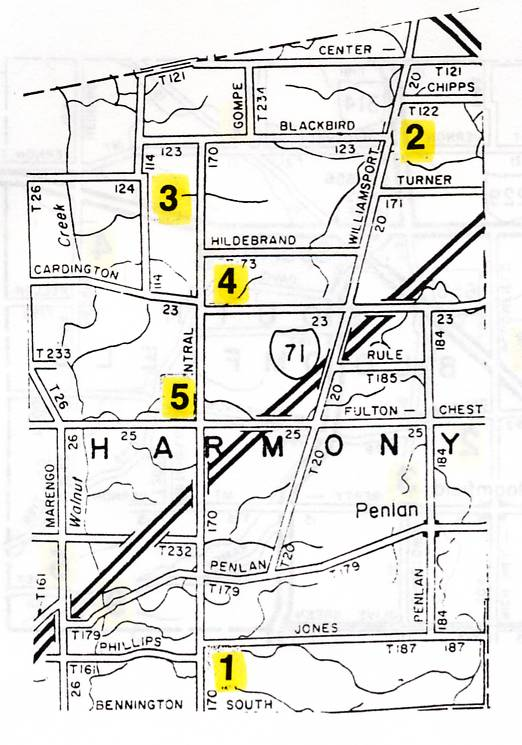 Most of the cemetery names and locations were obtained from the results of a federally funded project in the 1930's, known as the "WPA Veterans Grave Registration Project". It was conducted in cooperation with the American Legion to identify the names of all veterans of the armed services buried in Morrow County and to locate their graves. A copy of the WPA survey is in the Recorder's office in the Morrow County Courthouse, Mount Gilead, Ohio. In addition, over the years, volunteers from the Morrow County Genealogical Society have physically walked through every known cemetery area and, in most cases, were able to record the tombstone inscriptions and locations.
Biggs Cemetery
TR187 & CR170, near Southern boundary of Township. One stone transcribed. About four additional broken stones. Copied October 5, 1993, by G. S. Morgan.
Blackbird M. E. Church – Harmony Chapel Cemetery
On CR123 where it "tees" at CR 20. About 1.25 miles South of SR95. Cemetery is directly across the road from Harmony Chapel. The cemetery is said to have been laid out in 1831 by Jeremiah Smith. There are several graves of persons who died some years earlier than that, so it seems like it was used as a family or neighborhood burial place before it was laid out as a regular cemetery. It is in only fair condition, some stones are fallen, some illegible, and the place seems overgrown with the little low thorny roses common in old cemeteries. 2 Acres. Recorded by G. S. Morgan, October 3, 1993.
Colored, Old – Kenney/Kinney Cemetery
On East side of CR 114 about .25 mile South of CR124, behind pasture field on a wooded lot. Abandoned. .04 Acre. Some sandstone fragments, plus three stones recorded by Dan Rhodebeck on July 31, 1982.
Elliott Cemetery
Near CR23 & CR170, .5 mile South of CR23 (?-doesn't match map). .1 Acre. No stones.
Ralston Cemetery
At Northwest corner of CR25 & CR170, 2.25 miles East of Fulton. .01 Acre. No stones.