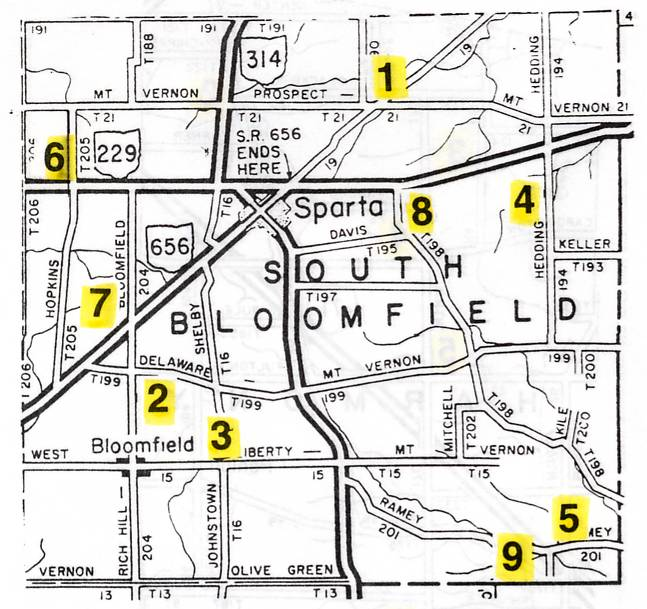 Most of the cemetery names and locations were obtained from the results of a federally funded project in the 1930's, known as the "WPA Veterans Grave Registration Project". It was conducted in cooperation with the American Legion to identify the names of all veterans of the armed services buried in Morrow County and to locate their graves. A copy of the WPA survey is in the Recorder's office in the Morrow County Courthouse, Mount Gilead, Ohio. In addition, over the years, volunteers from the Morrow County Genealogical Society have physically walked through every known cemetery area and, in most cases, were able to record the tombstone inscriptions and locations.
Allington Cemetery
TR21 & CR19. About 1.25 miles Northeast of Sparta. On CR19 on property owned by DeWitt family. 0.01 acre. One stone.
Bloomfield Cemetery
On CR204. About one mile North of Bloomfield. 11.49 Acres. Recorded by Winton and Dolores Arnold, Robert Snyder, Paul and Betty Meier, and George Morgan June, 1993.
Harris Cemetery
CR15 & TR16, one mile West of SR314. No stones.
Hedding M. E. Cemetery
On TR21 about 0.25 mile East of CR194 and 0.25 mile North of SR229. 0.82 Acre. On H. Wilson property. Fenced with iron fence and well kept. Recorded by Betty and Paul Meier, October 1984.
Lineweaver Cemetery
On CR201 near TR200 in extreme Southeast corner of Morrow County. No stones. 0.05 Acre.
Needles Cemetery
SR229 & TR205, 1.5 miles West of Sparta. No stones. 0.1 Acre.
Pierce Cemetery
SR656 & TR204, 1.5 miles Southwest of Sparta. No stones. 0.1 Acre.
Red Hill Cemetery
SR229 & TR198. East of Sparta. 2 Acres. Copied by Paul and Betty Meier.
Kile Cemetery
South side of CR201, 0.5 mile East of intersection of TR202. (Southwest fourth of Section 21, S. Bloomfield Twp.) 0.35 Acre.